NTSB DCA86AA012

December 31, 1985 Dekalb, TX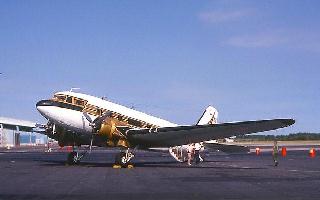 Rick Nelson's chartered Douglas DC-3 N711Y

Investigation
At 1708:48 while cruising at 6000' the Captain of N711Y advised ATC, I think I'd like to turn around, head for Texarkana here, I've got a little problem! He was provided a vector and advised of the closest airports. Shortly after, he stated he would be unable to reach the airports. At 1711:49 he said there was smoke in the cockpit. While landing in a field at 1714, the aircraft hit wires and a pole then continued into trees where it was extensively damaged by impact and fire. The crew egressed through the cockpit windows. The passengers did not escape. During flight, the crew was unable to start the cabin heater despite repeated attempts by the Captain. Smoke then entered the cabin. Fresh air vents and cockpit windows were opened, but smoke became dense. The crew had difficulty seeing. The oxygen system and hand held fire extinguishers were not used. Fasteners for the heater door were found unfastened. Examination indicated the fire originated in the aft cabin area, right hand side, at or near the floor line. The ignition and fuel sources were believed to have been that of a faulty Janitrol Heater.

News Report
On Monday 31 Dec 85, following a performance in Guntersville, AL (where Rick's last number was Buddy Holly's "Rave On"), Rick, his fiancee, Helen Blair, and five members of The Stone Canyon Band boarded a chartered Douglas DC-3 N711Y to fly to their next venue in Dallas, TX. The aircraft was once owned by Jerry Lee Lewis. After take-off the pilot radioed that smoke was seeping into the cockpit. He attempted an emergency landing on a highway. After landing the aircraft burst into flames on the ground, killing all seven passengers aboard.

A memorial service was held at the Forest Lawn Memorial Park in California, and a show feathering Rick, Fats Domino, Johnny Cash, Jerry Lee Lewis and Roy Orbison, which had been recorded before his death, was aired on American television as a tribute to Rick.